Strong transaction volumes persist in the Los Angeles office market. Last year saw $7.1 billion in completed office sales, in line with 2018 levels and with historical averages for the market, but down slightly from 2016 highs.
Los Angeles came in sixth nationally for investment volume, behind New York, Seattle, Boston, Washington, D.C., and San Francisco.
Office deals in Los Angeles continue to see some of the strongest pricing in the nation, with an average market capitalization rate of 5.4% and average market pricing currently at $450 per square foot. Office product in the Los Angeles area is attracting almost every investor type.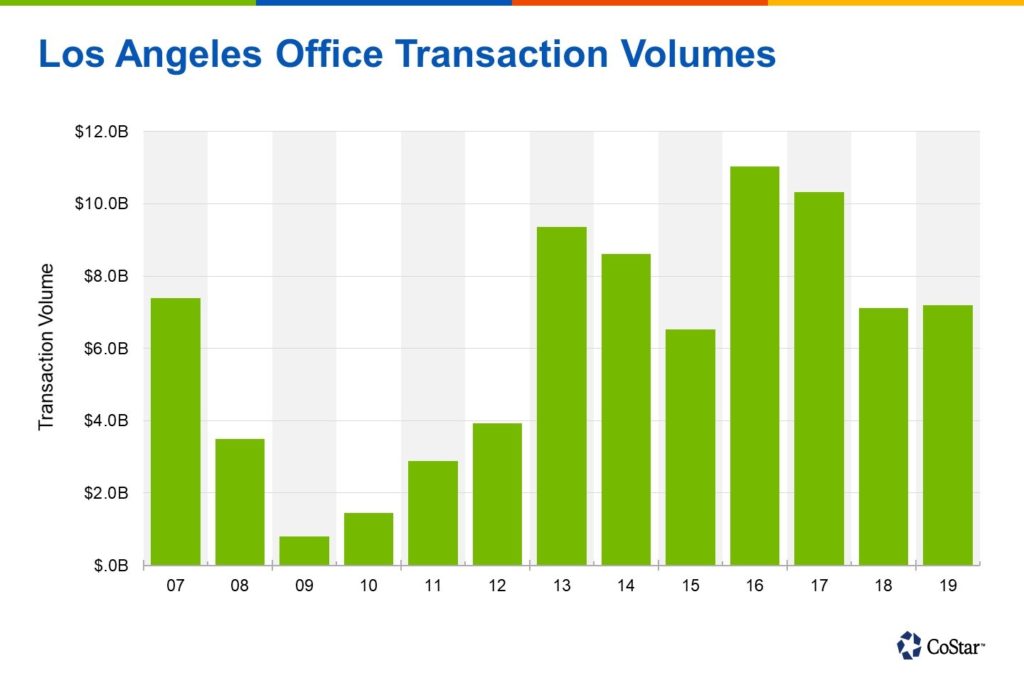 Looking back at major transactions, which continue to define the market, the largest sale of 2019 involved the CBS Television City property in the West Hollywood submarket of Los Angeles County. Encompassing 25 acres with more than 500,000 square feet of office space and 350,000 square feet of studio space, the project traded in February for $750 million, or about $850 per square foot.
CBS sold the complex to Los Angeles-based Hackman Capital Partners, which plans to redevelop portions of the property while preserving other portions that have landmark status. Hackman was quite active in Los Angeles last year, having also closed on the Manhattan Beach Studios this past August for $650 million.
In June 2019, in what was the largest pure-play office sale of the year, Onni Group purchased the two-building Wilshire Courtyard Complex in Los Angeles' Miracle Mile for $630 million, or about $630 per square foot, from Tishman Speyer. The property was only 59% leased upon sale, resulting in an in-place cap rate of just 2.9%. Tishman had purchased the complex from RREEF back in 2012 for $422.5 million, or around $420 per square foot, and implemented extensive renovations to update the complex.
Looking forward, CoStar's forecast calls for modest cap rate expansion along with more measured price gains. Cap rates are expected to essentially hold flat for the next several years, while prices on a per-square-foot basis are projected for 3.2% compound annual growth during the next five years.
Author Credit: Ryan Patap, CoStar